Discover more from Popculturology
A newsletter about pop culture from Bill Kuchman.
The lost 'SNL' generation
Was Lorne Michaels' love of celebrity guests worth it? PLUS: Gunn and Safran burn down the DCEU, Cody returns in new 'Bad Batch' trailer, Matt Lucas leaves 'Great British Bake Off.'
You can break the cast of Saturday Night Live into three distinct groups.
The old guard, which is basically just Kenan Thompson and Cecily Strong at this point. (Kate McKinnon and Aidy Bryant were part of this group until they left after last season.)
Then you have the castmembers who have been on the show for no more than five seasons, which would include Ego Nwodim, Chloe Fineman, Andrew Dismukes, Punkie Johnson, James Austin Johnson, Sarah Sherman and the three castmembers that are in their freshman season.
Then there's the group in the middle. Mikey Day and Heidi Gardner.
These two are the final survivors of SNL's lost generation — people who joined SNL during a time when Lorne Michaels was preoccupied with cramming as many celebrity cameos as possible into the show.
If you've followed me on Twitter over the past five to seven years, especially on Saturdays for about 90 minutes beginning at 11:35 p.m., you most likely know my thoughts on how SNL lost its way during the Trump years.
For parts of five seasons, SNL became a showcase for celebrities portraying political figures: Robert De Niro as Robert Mueller, Matt Damon as Brett Kavanaugh, Melissa McCarthy as Sean Spicer, Ben Stiller as Michael Cohen, James Corden as Boris Johnson. And the most dominant of all these portrayals, Alec Baldwin as Donald Trump.
The show's celebrity stunt-casting juiced SNL's ratings, and turned the weekly cold open into a guessing game of which famous person would show up.
All of this at the expense of the actual cast of SNL.
Roles like these have long been some of SNL's most-prized opportunities. Pairing the right castmember with the right political figure — especially a president — can make a career. Will Ferrell is a hall-of-fame SNL castmember thanks to the years he spent defining how the public viewed George W. Bush.
When Michaels brought Baldwin on board to be the show's Trump beginning in Season 42, that meant a member of the show's actual cast no longer had a shot at what could have been a career-launching role. (Baldwin wasn't even Michaels' first snub of the current cast when it came to Trump. He has previously yanked the role from Taran Killam and giving it to former SNL castmember/current announcer Darrell Hammond.)
During this time, SNL established that if a previous castmember had portrayed a political figure, they got to return to play that person again instead of having the role pass on to a current castmember. Fred Armisen as Michael Bloomberg. Jason Sudeikis as Mitt Romney. It was a miracle that McKinnon was able to portray Hillary Clinton instead of the show bringing Amy Poehler back. (Maya Rudolph as Kamala Harris is a gray area here since Rudolph didn't portray the future vice president while she was part of the show's cast.)
Why did SNL morph into SNL: Celebrity Edition for a few seasons? There have been several theories about this over the years. One of the strongest is that after the Saturday Night Live 40th Anniversary Special in 2015, Michaels looked around and realized he missed working with his old friends. Killam summed this theory up in a chat with the I Was There Too podcast in 2018 (via Vulture):
"And I also think the 40th [anniversary show] really sort of affected Lorne in that I think it was exciting and I think it was flattering and I think he was really able to sort of relish in this incredible institution that he's responsible for and all these amazing iconic careers and all of his famous friends, and it had to have been the most potent overwhelming boost of a 'this is your life' experience ever. And then it all went away, and then it was back to this cast who's all 40 years younger than you and aren't as famous as Tina Fey or whatever, and my experience was he became very impatient."
"Then it all went away, and then it was back to this cast who's all 40 years younger than you and aren't as famous as Tina Fey or whatever" is a brutal take from Killam.
Despite Baldwin's portrayal moving past funny and into painfully boring, he remained Michaels' pick to be SNL's Trump for Seasons 43, 44 and 45 before immediately disappearing after the 2020 election during Season 46. The show also quickly scuttled Jim Carrey as Joe Biden — a bit of casting that somehow rose above the rest of the SNL: Celebrity Edition casting in terms of cringeworthiness.
But the damage was done.
The Baldwin/Trump era of SNL had created a lost generation of SNL castmembers.
A handful of talented actors and comedians had withered under the shadow of established stars. Episodes during this era also had a bizarre bitterness to them. When episode after episode allowed Baldwin to set the tone with the cold open, it was hard to shake that vibe for the rest of the show.
Castmembers like McKinnon, Bryant and Strong had the benefit of establishing themselves before the Baldwin/Trump era (and in Strong's case, continuing well past it).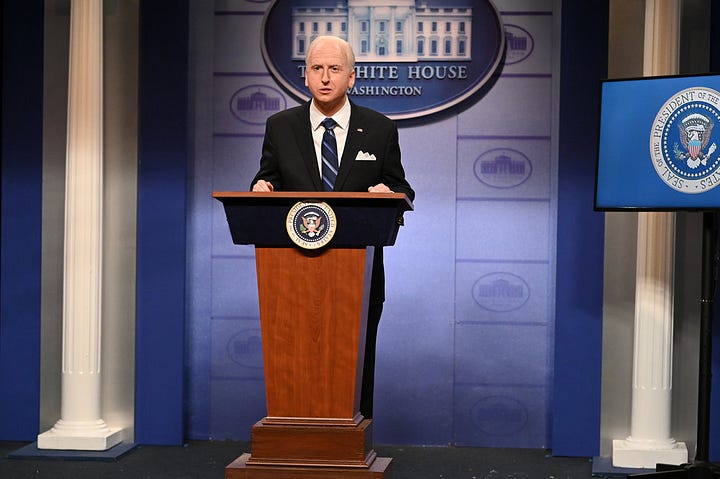 While watching last weekend's Keke Palmer episode, I was struck by how quickly the newest SNL castmembers have grabbed the spotlight. Sherman is a regular Weekend Update guest (even getting her own branded segment). James Austin Johnson is somehow the show's Trump and Biden even though he still has featured status. These castmembers will never have to come to work only to see Michaels hand key roles over to guest stars.
And then there's the lost generation: In addition to Day and Gardner, this cluster of SNL castmembers once included Alex Moffat, Melissa Villaseñor and Chris Redd. They all had the misfortune of having their time on SNL fully sync up with Michaels' preference for stunt casting.
Day, Moffat and Villaseñor made their SNL debuts during Season 42, the same season Baldwin became Trump. Moffat and Villaseñor had only one full season past that era before their time was done.
Gardner and Redd both started in Season 43. Like Moffat and Villaseñor, Redd spent one season on the show outside of the celebrity era.
There had been some speculation that Michaels was keeping veteran castmembers like Thompson, Strong, McKinnon and Bryant around longer so that he wouldn't have to celebrate SNL's fiftieth anniversary with a bunch of newcomers, but that theory got popped when McKinnon and Bryant left at the end of last season. On top of that, the SNL showrunner appears to already be looking past his current cast and to the future, calling the current season a "transition year."
Calling Day, Gardner, Moffat, Villaseñor and Redd the lost generation isn't me saying this group of SNL castmembers isn't funny. (This isn't a "the best SNL cast was the one I remember from when I was younger" bit.) These are funny and talented castmembers who unfairly had key shots at SNL stardom taken away from them.
Sure Day and Moffat were fantastic as the Trump brothers, crafting versions of those people beyond just angrily reciting quotes from the real versions (looking at you, Baldwin), but what if they had been giving a shot at Trump or Mueller or Kavanaugh?
These castmembers always had the potential. Once SNL jettisoned Baldwin and Carrey, the show was fun again. It got weird.
But was it too late?
Nwodim, Yang and Fineman may have started their SNL tenures during the celebrity era, but those two seasons weren't enough to stifle their shots at breaking through.
As I've complained about this over the past few years, I've had people tell me they thought the celebrity portrayals were funny or how they really enjoyed watching SNL because of them. Maybe they were funny, but it wasn't SNL people were laughing at. SNL is its cast. That's the show's strength. It's a shame a generation of the cast had to be pushed into the background to remind us of this.
---
Thanks for reading Popculturology. I love writing about pop culture, and I hope you enjoy reading this newsletter. If you do, please subscribe. It's the easiest way to make sure you get every edition of Popculturology. Now let's get to the news.
---
So about
Black Adam
changing the hierarchy of power …
When Black Adam hit theaters, there was a ton of bravado over the "hierarchy of power" in the DCEU changing. Some sleight of hand went on, as proponents of the movie praised the films worldwide opening weekend box office numbers when those numbers would've only been something to be proud of had they been domestic opening weekend numbers. Warner Bros. Discovery brought in James Gunn and Peter Safran to retool and oversee DC Studios. And then Black Panther: Wakanda Forever opened and made more in one weekend than Black Adam had made during its entire theatrical run up until that point.
Earlier in the week, Variety reported that Black Adam was on track to be a theatrical loser for WBD. According to Variety, Black Adam cost $195 million to produce and another $100 million to promote. By their math, the film would need to gross $600 million to break even, but is only on pace for less than $400 million. There was some good news in this report, with Variety noting that Black Adam is overperforming on the home entertainment side, lowering that breakeven number from $450 million.
Here's where this takes a weird turn: A day or two later, Deadline reported that, no, Black Adam is set to be profitable. Dwayne Johnson even quote-tweeted the Deadline piece to celebrate Black Adam having a higher worldwide box office total than the first Captain America movie … which currently ranks at No. 29 among the entire Marvel Cinematic Universe … and make less than Shang-Chi and Eternals, two films that often cited as MCU failures …
Also, pay no attention to the existence of a "fee that Warner Bros pays itself to send [Black Adam] to HBO Max [being] included in Home Entertainment revenue of $86M." It's easy to make a film profitable when you set price you're going to pay yourself …
All that said, Variety does fairly notes that Black Adam isn't the only film out there right now struggling to break even. With the evolving entertainment landscape thanks to the pandemic and streaming options, the math has changed. But maybe everyone involved with this film shouldn't have boasted about the whole "hierarchy of power" thing considering Black Adam is struggling to crack into the top half of the DCU's box office chart, whether domestic or worldwide.
That same group of people should probably stop pretending they have any say over the future of the franchise now that James Gunn and Peter Safran have been named the heads of DC Studios. If something is being "mapped out," Gunn and Safran are the only people with the power to do that now.
Daily Show
announces guest hosts for post-Trevor Noah era
Trevor Noah will host his final episode of The Daily Show today, ending a tenure that began in 2015. With Noah gone, the show will turn to a rotating roster of substitute hosts before naming a permanent replacement.
In addition to having current Daily Show correspondents anchor the show, Comedy Central announced this week the first batch of celebrity guests who will host after Noah is gone.
Al Franken, Chelsea Handler, D. L. Hughley, Leslie Jones, John Leguizamo, Hasan Minhaj, Kal Penn, Sarah Silverman, Wanda Sykes and Marlon Wayans along with TDS correspondents and contributors are set to host with additional details to be announced.
The guest-host rotation will begin on Jan. 17, 2023.
Daredevil
Disney+ revival adds two castmembers
No, it's not Tatiana Maslany. (We can hold out hope for a visit to Hell's Kitchen from our favorite purple-clad lawyer.) Disney+'s Daredevil: Born Again has added Margarita Levieva and Sandrine Holt to a cast that already includes Charlie Cox, Vincent D'Onofrio and Michael Gandolfini.
Levieva has been in Revenge and The Deuce and is part of the cast of the upcoming Star Wars series The Acolyte. Holt has most recently appeared in Better Call Saul.
Flash
zips up a week
It's not the Flash entering the speed force, but Warner Bros. Discovery has moved the much-delayed Flash standalone movie's release date up a week to June 16, 2023.
The film, which stars troubled actor Ezra Miller, now has a weekend of breathing space between it and Indiana Jones and the Dial of Destiny … but comes out just a week after Transformers: Rise of the Beasts … which comes out just a week after Spider-Man: Across the Spider-Verse.
Phew. Next June is a busy month at the movies.
More like HBO No
HBO Max's days have numbered since Discovery closed its acquisition of Warner Bros. At best, it was going to be merged with Discovery+, and at worst it was going to have all its content sold off to other streaming services.
At the moment, the merger option seems to be where WBD is heading, and the company is looking to rename the combo app. Several reports this past week have revealed that Max is the most likely name for this combo app.
Executives haven't finalized a decision and the name could still be changed, but Max is the likely choice, said the people, who asked not to be named because the discussions are private. Some senior executives are still debating a final name, said two of the people. Internally, Warner Bros. Discovery has given the new service a code name of "BEAM" while a final name is being debated, said the people. Lawyers are vetting other names, as well.
Looks like the era of confusing HBO apps will finally come to an end. Good bye, HBO Go, HBO Now and HBO Max. No longer will I have to question why The Big Bang Theory is worthy of the HBO brand.
Matt Lucas flakes off the
Great British Bake Off
After the most recent season of The Great British Bake Off, it was clear that something (many things?) had to change. We got our first offseason change on Tuesday when Matt Lucas announced that he would not return as one of the show's hosts.
"Farewell, Bake Off! It's been a delicious experience and I can't imagine a more fun way of spending my summers, but it's become clear to me that I can't present both Fantasy Football League and Bake Off alongside all my other projects," Lucas posted on Twitter. "So, after three series and 51 episodes, I am cheerfully passing the baguette on to someone else."
Noel Fielding remains one of the show's hosts. No word yet on who will replace Lucas.
Ghostbusters: Afterlife
sequel names a director
Despite crossing less at the worldwide box office than the 2016 Ghostbusters reboot, Ghostbusters: Afterlife has a sequel on the way. Deadline broke the news this week that Afterlife screenwriter Gil Kenan will take the helm of the sequel.
"It's an absolute honor to pick up the proton pack and step behind the camera for the next chapter of the Spengler family saga," Kenan told Deadline. "I just wish I could go back to 1984 and tell the kid in the sixth row of the Mann Valley West that one day he was going to get to direct a Ghostbusters film."
For the sequel, Afterlife director Jason Reitman will reportedly move to a writer/producer role. The film is expected to return the franchise to New York City, with Afterlife stars Paul Rudd and Carrie Coon back.
Kirstie Alley dies at 71
Kirstie Alley died on Monday. The Cheers actress was 71.
People confirmed that the actress had been battling colon cancer. Alley was also known for her series, Veronica's Closet, and her roles in the Look Who's Talking movies.
---
What's on your mind? Leave a comment to let Popculturology know your thoughts on pop culture.
---
Bad Batch
Things I love about this Bad Batch trailer: The Moana-esque beach in the beginning, whatever that creature is at like 44 seconds, Wookiee Jedi, Cody, Dee Bradley Baker's Crossfire voice, and the line "Peace? Peace was never an option" as we pan to Palpatine.
Bad Batch Season 2 premieres on Jan. 4, 2023.
Mickey 17
Parasite director Bong Joon-ho's next film, Mickey 17, is an adaption of a science-fiction novel that I'm not familiar with. Here's what the Amazon blurb has to say about the story:
Mickey7 is an Expendable: a disposable employee on a human expedition sent to colonize the ice world Niflheim. Whenever there's a mission that's too dangerous―even suicidal―the crew turns to Mickey. After one iteration dies, a new body is regenerated with most of his memories intact. After six deaths, Mickey7 understands the terms of his deal…and why it was the only colonial position unfilled when he took it.
Mickey 17 stars Robert Pattinson, Naomi Ackie, Steven Yeun, Toni Collette, Mark Ruffalo and Holliday Grainger.
Mickey 17 opens on March 29, 2024.
---
Elf
Elf hits differently now that both Ed Asner and James Caan are gone. (Long live Bob Newhart.) Can you imagine this movie without those two icons? I'm not sure Elf would've made it to theaters — and still be going strong in 2022 — without the gravity Asner and Caan brought to the project.
Speaking of it being 2022, while watching Elf, my wife asked: "When did this movie come out? Like twenty years ago?"
Thinking it couldn't possibly be that long ago, I pulled up Elf on Wikipedia.
2003.
Elf came out in 2003, which is a year short of twenty years ago. We're all old.
Bob's Burgers
I'm basically watching Bob's Burgers live now (watching an episode of a show before the next episode comes out should count as live in this world), so I'm once again caught up with the latest season.
I'm in no way the first person to point this out, but the details the Bob's Burgers animation team puts into crafting Teddy has always been impressive. Whether it was his reaction to the Belchers leaving him during lunch a few episodes ago or trying to recreate a meat loaf in this episode, Teddy is always fun to watch.
Teddy getting caught in the Belcher kids' fridge trap is a classic.
---
---
What's on your mind? Leave a comment to let Popculturology know your thoughts on pop culture.
---
Steve Martin and Martin Short host
SNL
SNL promos have pretty much become SNL sketches themselves over the past few season. The setup behind the promo for this weekend's episode with Steve Martin and Martin Short hosting is pretty creative.
This will be Martin's sixteenth time hosting SNL, which will put him just one hosting gig away from tying Baldwin on the all-time list. (Baldwin weirdly hosted in 2017, even though he was already playing Trump during that season.)
'Actors on Actors': Brendan Fraser and Adam Sandler
Huh, have we all been pronouncing Brendan Fraser's last name wrong? Maybe hearing it a bunch during the upcoming awards season will change that.
This is the only one of Variety's "Actors on Actors" interviews I've watched so far (but I did see the controversy around Jennifer Lawrence's …), and it's totally worth half an hour of your time. I find it fascinating that Adam Sandler has the power to be an Actor whenever he wants to be, but is usually content making Netflix movies with his buddies.
Watch this one all the way to end for a mention of SNL/Late Night legend Wally Feresten.
---
Gonna end this edition of Popculturology on a personal note. Today is the one-year anniversary of the passing of Roxy, our beloved beagle.
Her death was a sudden one last year. She was 11 years old and in what we thought was pretty good health. Cancer in the form of hemangiosarcoma caused her health to rapidly decline over a few days, and we had no choice but to say goodbye.
She was the best dog.
If you knew Rox or followed her life via our social media posts over the years or just love a good beagle, please enjoy an over-easy egg in her memory today.
---
That's the end of this issue of Popculturology. Thanks for reading. If you don't already subscribe, please hit the "Subscribe now" button.